Regular price
RM25.00
Sale price
RM17.99
Unit price
per
Sale
Sold out
SKU:32809278
Available Stock: 7
Share
View full details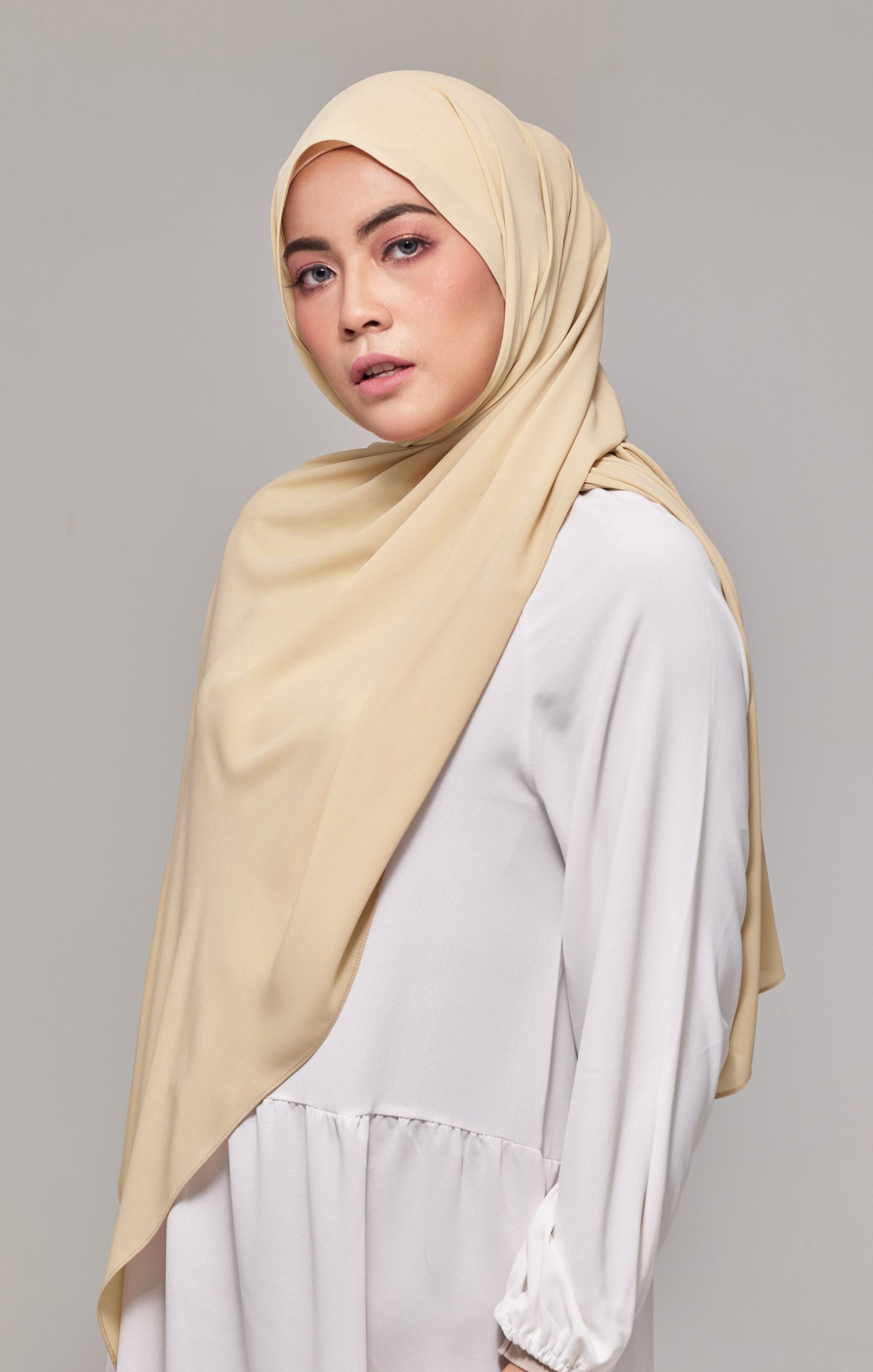 Instant Hijab Online
Introducing Faura Instant Shawl, a stunning addition to Carlanisa's luxurious collection of instant hijab online. Made from ultra-soft and silky chiffon fabric, these hijabs offer unparalleled elegance and comfort. Crafted with meticulous attention to detail, they are slightly thicker, opaquer, and heavier than our Instant Chiffon Hijabs, making them the perfect choice for formal events or evening attire.
Design and Convenience
Faura Instant Shawl features Carlanisa's signature plain shawl design, combining effortless style with convenience. With its pre-stitched, ready-to-wear, this instant shawl allows you to achieve a perfectly draped and stylish look in seconds. Simply slip it on, adjust it to your liking, and you're ready to make a fashion statement.
Premium Korean Chiffon Fabric
Indulge in the luxurious feel of the premium Korean chiffon fabric that Faura Instant Shawl offers. Its ultra-soft texture gently caresses your skin, while the silky sheen adds a touch of elegance to your ensemble. This high-quality material is known for its durability, ensuring that your hijab remains in impeccable condition even with regular wear.
Quality Craftsmanship of Carlanisa
Carlanisa's commitment to quality extends beyond the fabric. Each Faura Instant Shawl is carefully stitched and finished to ensure longevity and impeccable craftsmanship. The edges are delicately hemmed, providing a polished and refined look. With proper care, this instant shawl will remain your go-to choice for years to come.
Versatility in Styling
Faura instant hijab online is designed to meet the needs and preferences of the modern Muslim woman. It offers versatility in styling, allowing you to create various looks to suit your mood or occasion. Whether you prefer a loose and relaxed drape or a more structured and sophisticated style, this instant shawl adapts effortlessly to your desired look.
Luxury and Confidence with Faura Instant Hijab
Embrace the feeling of luxury and confidence when wearing Faura Instant Shawl. Whether you're attending a special event, an evening gathering, or simply want to elevate your everyday style, this hijab is designed to make you feel extraordinary.
Easy Care Instructions
In addition to its stunning appearance, Faura Instant Shawl is easy to care for. Simply hand wash or machine wash on a gentle cycle and hang it to dry. The premium Korean chiffon fabric retains its shape and softness even after multiple washes, ensuring that your hijab always looks and feels as good as new.
Why you should buy this Instant Hijab Online?
Experience the epitome of luxury and elegance with Faura Instant Shawl by Carlanisa. Elevate your hijab game and indulge in the finest quality chiffon fabric. Embrace the versatility and timeless beauty that Faura Instant Shawl offers. Shop now and discover the beauty that defines you.